In Missouri The 1,000 Gardens Project gets people to register their vegetable gardens. It's hoping to sprout 10,000 new gardens in 2011.
Locally it's relying on the community to get things started. The idea behind the push is sustainability. "I think if you looked at the number that are actually exploring this issue, you'd be very surprised. I think this is a very attainable goal," said Shelley Vaugine, a volunteer. Organizers say local gardens would make Springfield less dependent on store bought food, and I'm sure it would. People in the Ozarks are known for their resourcefulness and their ability to get things to grow in spite of all the rocks. Back at the turn of the century tomato canneries were commonplace in these hills. Everything seems to be going full circle here as the community as a whole supports not only themselves, but the growers in our area through the multiple farmers markets.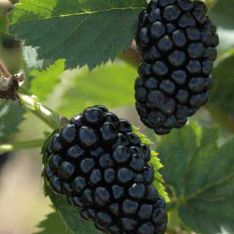 We plant everything from pole beans to tomatoes. In our garden we have set aside an area for blackberries and raspberries. We like to make jelly and sauces and those berries really pay for themselves over the season. If you haven't tried growing berries here's a source we use that's Missouri based and provides the right planets for our area. Stark Bros. out of Louisiana, MO sends us Thornless Boysenberries which are great juicy deep purple berries – just wade in and pick 'em! Berries grow to a whopping 1½ inches long and as big around as one full inch! You'll want them for dessert every day during the season, but save a few for the greatest jam you ever tasted. Usually ready late July. We also have Natchez Thornless Blackberries as big as your thumb that are disease-resistant and one that the University of Arkansas has helped produce. The berries we have are much like the monsters you sometimes find at your local farmers market…you know the ones that look like a purple baseball. All kidding aside, it's a pleasure to have the canes included in our garden space, no thorns and the benefit of the berries, how can you lose?
I think we can all agree sustainability should include a few choice berries. They should be in the mix. Our friends at Stark Bros. have graciously given Hootentown readers their own discounted coupon if you want to plant some berries in your garden.
COUPON Code: HOOTENTOWN
Valid: April 1, 2011 – April 30, 2011
$5 Off all orders over $50 (prior to S/H).
Online (www.starkbros.com) use only
1 use per customer
P.S. Don't forget the fertilizer!
Finally…a fertilizer that is formulated especially for blackberries. Easy to use 12-10-10 formula is developed to give your blackberries and other brambles the perfect nutrients needed for strong growth and high yields of large, healthy berries.